CHATEAU DE LA NAPOULE
Built on the seafront in 1387, this ancient medieval fortress bears witness to an eventful history (wars, invasions and other revolutions). Château de La Napoule was bought in 1917 by a couple of billionaire American artists (Henry and Marie Clews) who, by their undeniable talents, transformed the building with their hands. If Henry applied himself to the architecture of the castle and his artistic works, his wife was the creator of the gardens of the castle which have nowadays received the label "Jardin remarquable".
GUIDED TOUR OF THE CASTLE
Rates: 6 € / pers. 4 € / child 7 to 17 years old. Free for children - 7 years old.
FREE VISIT TO GARDENS
Rates: € 3.50 / pers. Free for children - 7 years old.
OPENING HOURS: to consult.
MIMOSA FEAST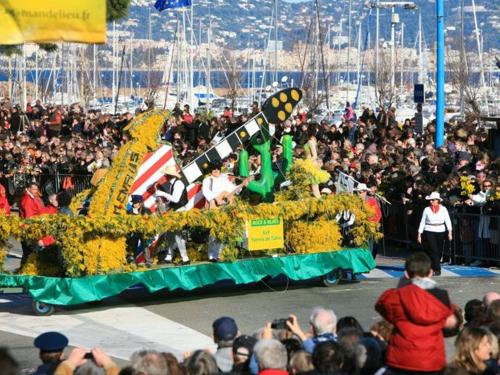 Organized every year in February, the Mimosa Festival is very popular in Mandelieu-La Napoule. The feast begins with the inaugural evening at the Chapel "Our Lady of Mimosas" and the election of the Queen of Mimosa, then for 8 days, parades and corsos flower day or night succeed in the streets of the city.